Welcome to Seville; The Reunion Edition
If you haven't been to Seville yet, please do yourself a favour and book a plane ticket- now. It is honestly one of the most beautiful cities I have travelled to in Spain. It was the architecture of the city which took me by surprise; the blend of moorish architecture teleports you to the streets of Marrakech, and you are back in Spain, surrounded by Renaissance architecture an alley later.
I escaped the onset of winter in London for 30 degrees in the Mediterranean. That was a pretty good deal, considering my Ryanair ticket was only £80 return! I was so excited to be reunited with my best friends, who live in other parts of the world. Ruby is a management consultant in New York and Vivi is in her final year of Dentistry in Munich. Ricardo lives in Dusseldorf and is an Engineer at Siemens. We went to the International School of Dusseldorf together and try to see each other as much as possible. We chose to meet in Seville because it is where Vivi's mom is from... and that meant we had a personal tour guide to show us the best parts of the city ;)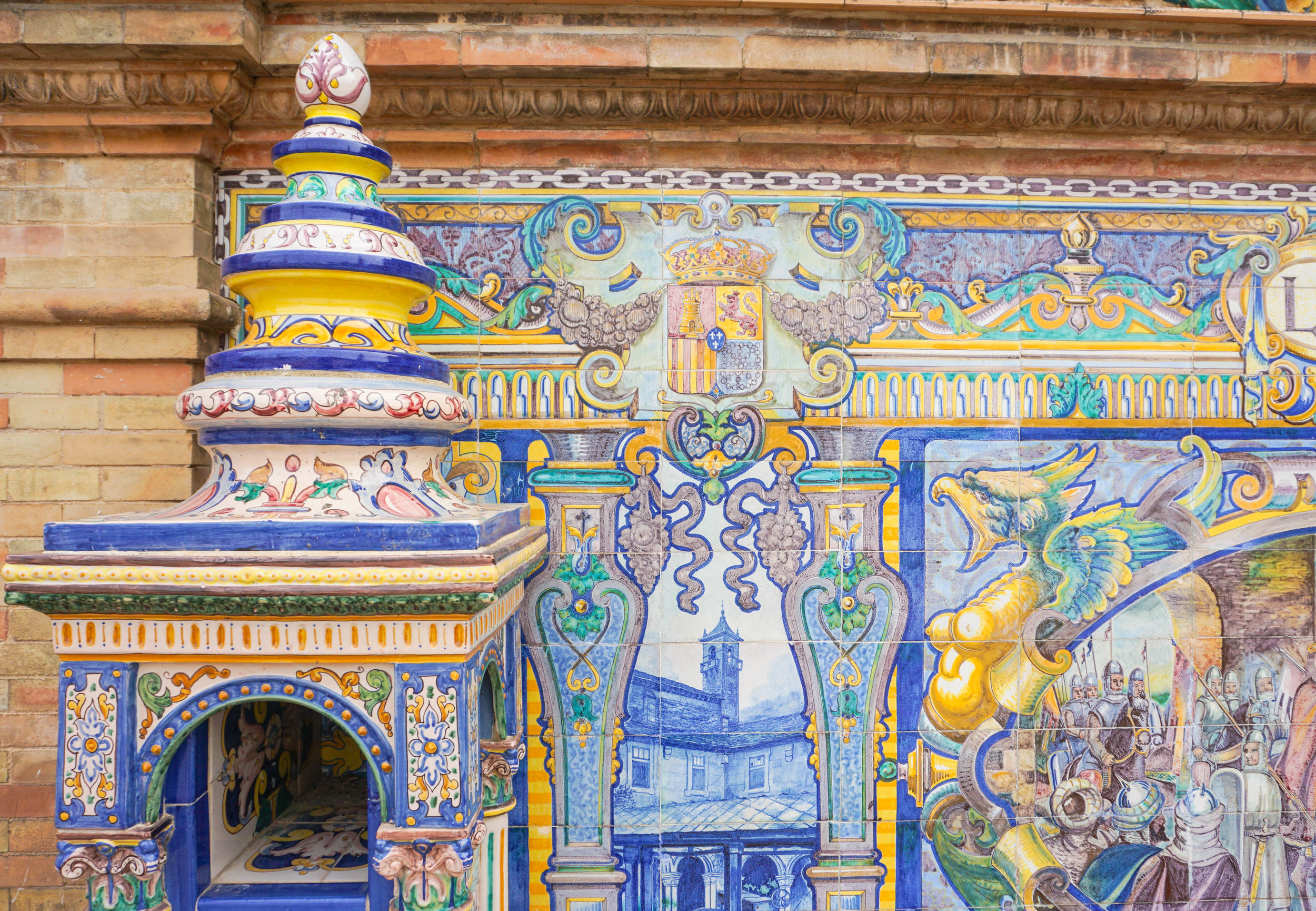 1. Taberna Coloniales (£): The best traditional Spanish tapas for the best price. Located on Calle Fernández y González it is a 10 minute walk from the Cathedral and one of the tastiest authentic meals you will have in Seville. Must have dishes: Huevos do Codorniz con Jamon (quail eggs with ham).
2. Cerveceria Jose Luis (££): Vivi's mom comes from Seville and every time she is back for a visit this is the place they go to catch up on life and the much missed Spanish food. It is more elegant than the other options; white table clothes and waiters dressed as penguins. The absolute highlight was the steak which brought out on a searing hot plate, sprinkled with chunks of salt crystals. We also ordered Calamares al Andalus and jamon croquetas which were phenomenal. They don't have a website, so here's the address: Plaza Cuba 3.
3. La Bodega de Antonio Romero (££): Established in 1994, this is a spectacular restaurant for traditional Andalusian cuisine. It is located in the city center in the El Arenal neighborhood; specifically on Antonia Diaz 5. Their speciality is a "tipsy" sandwich and "mantecaito" which is meat with jamon. You should also try the carne en salsa, carne a la parilla and pimientos fritos. This is one of those places where you will end up returning to time and time again.
4. Bar Alfalfa (£): Very small and very Spanish, this is not one known by the tourists. The atmosphere is very upbeat and welcoming; the waiters were extremely friendly and completely happy to chat through the entire menu if you ask. Tapas are only 3.50 euro a pop and they even have gluten free options! Try the croquetas, calamares a la romana and cazon de adobo. Located C / Candilejo 1.
5. San Fernando in the Hotel Alfonso XIII (££££): Go here to treat yourself to a meal in Seville's most stunning 5 star hotel. Opened in 1928, the architecture of the hotel is regional Andalusian and if you dine here, ask for the courtyard! Enjoy Spanish dishes with a modern twist, listen to live piano music and find a way to sneak into this hotel! ;)
1. El Real Alcazar: This was my favourite part of Seville. Founded in 913 for the Cordoban governors of Seville, the Alcazar has been ever evolving architecturally in the 11 centuries of its existence. It was taken over by the Muslim kingdom rulers which is why you see so much elaborate Moroccan architecture, vibrant patterned tiles in the Mudéjar-style and stunning gardens with patios overflowing with flowering plants. Tickets are 9.50 euro. I recommend you buy tickets online, as this lets you can skip the long queues.
2. La Plaza de Espana: Located in Maria Luisa Park, the Plaza de Espana was built in 1928 for the Ibero-American Exposition of 1929. This was a World Fair with the aim to enhance the image of Seville and promote tourism, improve employment and develop relations with the Western countries. The architecture is a soft blend of Regionalism architecture, with Renaissance and Moorish styles. We fell in love with the multi-coloured details on the bridges and benches. There are exactly 48 alcoves with benches (one for each province of Spain) designed in colourful azelejos ceramic tiles.
3. Parque Maria Luisa: A park designed in moorish style, with long stretches of vibrant tiled fountains and pavilions surrounded by lush palm and orange trees. The perfect place to take a stroll with a friend or read a book on the beautiful latticework benches.
4. La Catedral de Sevilla/La Giralda: The beautiful Cathedral of Seville with a bell tower which is one of the most iconic symbols of the city. I loved the intricate combination of Moorish and Renaissance architecture. It was first built as the minaret of the Aljama mosque in 1195 and was a model for the imperial capitals, such as Marrakesh. The Moorish rulers wanted to destroy the minaret before the Christian conquest in 1248, rather than give it up to another religion. King Alfonso X prevented the threat by stating, "if they remove a single stone, they will all be put the sword."
5. El Barrio Santa Cruz/La Juderia: The former Jewish quarter of Seville during the medieval times. Get lost here and wander through the narrow streets which are dotted with some of the oldest churches of Spain. The colours of Seville are something else.
Let me know if you have visited Seville! I would love to hear your recommendations!
Kat Caprice
Business graduate from the romantic Roman city of Bath, starting a career as a digital consultant in London. This website started in 2015, consisting of carefully curated edits of photography and personal thoughts ranging from travel, food, fashion & everything in between.